MY BABY GOT THE YIPS
A REAL, PROPER, ACTUAL 'BOOK' BOOK
I've always believed that it pays to be naive, optimistic and ignorant. You never know what you can achieve when it doesn't even occur to you how hard it might be. And so it proved when writing this. I wanted to write the golf book that I'd always wanted to read, but never found. Something that brought to life all the good stuff about the game. After only a couple of chapters, I decided it was all coming along very nicely and contacted half-a-dozen suitable publishers to tell them what I was up to. Two of them were interested and, after mulling it over, one of them said they'd commission me to finish it. I have since learned that this NEVER happens; that it is virtually unheard of for an ordinary joe with no agent to have an 'unwritten, unsolicited manuscript' published this way.
As for the book itself, and what kind of read it is, the inside sleeve I wrote for the book jacket probably says it best:
Inner Sleeve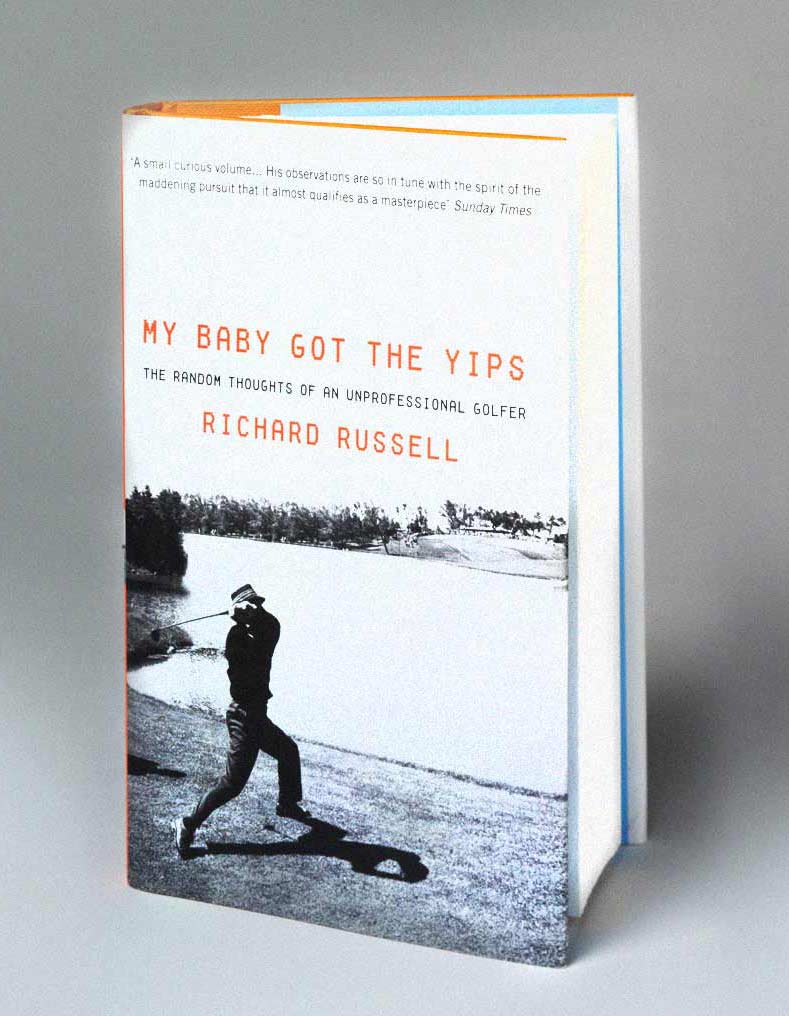 1st Edition Hardback
Sports Classic Paperback
Sold around 10,000 hardback copies.
Re-printed twice, most recently in 2014 as a 'Sports Classic'.
'A small, curious volume. His observations are so in tune with the spirit of the maddening pursuit that it very nearly qualifies as a masterpiece.'
The Sunday Times
'The book all club golfers have been waiting all their lives for.' – Golf World
'My friend found this book while we were in Portugal on a golf holiday. He read it in four days, finished it, and with a smile that suggested he was at one with the world of golf, passed it to me and nodded. It was one of the best gifts anyone has ever given me. I passed it on with the same confidence, knowing I was doing someone a genuinely good deed. I have now ordered it from Amazon so I can give it to my brother. I can't think of many books that have touched me in the same way. It is a true pleasure.' – Amazon customer review
Golf Punk Awards 2004. Book of the Year.
Life Swings by Nick Faldo. 23.6%
My Baby Got The Yips by Richard Russell. 21.6%
Caddy For Life by John Feinstein. 17%
The 7 Laws Of The Golf Swing by Nick Bradley. 12%
The Grand Slam by Mark Frost. 3.9%
Author nominated for 'Best New Sports Writer' at National Book Awards.
You may care, if you are very, very bored, to read some other generously fulsome reviews and online comments:
NEWSPAPER AND MAGAZINE REVIEWS
Like many of us in our idle moments, Richard Russell thought he had a book in him. My Baby Got The Yips is the result. Golf is the central theme, but this is a hotchpotch of ideas, a rambling journey. It shouldn't work, it really shouldn't. But it does. Russell's book won't be his last – or at least it shouldn't. He has an easy style, and laces it with wit and charm. As you reach the end, you conclude that this is a man who feels about golf the way that millions around the world do. He captures the essence of the game and touches everybody who plays it.
Richard Russell casts aside the endless pursuit of golfing perfection and focuses on the everyday struggle of club golfers. Sure to strike a chord with weekend players across the nation
As I understand it, Richard Russell's My Baby Got The Yips arrived as an unsolicited manuscript, but fortunately someone looked at it, and was sufficiently taken with it to publish it. The result is a little gem, full of piquant and unexpected joys, particularly in the often oblique asides.
At the quirkier end of this year's releases, I was charmed by Richard Russell's My Baby Got The Yips which is that rare thing, an avowedly amusing look at golf which is genuinely funny.
ONLINE REVIEWS AND COMMENTS
Just the best book ever. I have read it at least 10 times! You can pick it up and turn to any page and start reading and it delivers. If you like golf and a giggle this is it.
* * * * * Great stuff. More sports books should be written like this, aimed at the nobody who has the same passion for the game as any pro.
* * * * * This is an odd mixture of anecdotes, stories, opinions and facts. It would seem an unlikely candidate for golf book of the year, but that is what it is. The author is a 6-handicapper, and a member at Sunningdale. He is obviously a naturally funny guy, because he manages to entertainingly string together a series of events from his own, rather undistinguished, golf career together with his memories of great golfing moments that have touched us all – and it is that link, those memories we share, which make the book so personal, so warm in style. It is like having a conversation with a friend you've known for years. I simply couldn't put it down. Highly recommended.
* * * * * Have just finished reading this for the second time since I got it at Christmas. Thoroughly enjoyable from start to finish. Full of beautiful little gems of anecdotes and then finishes off with a story about the best golfer in the world and then tells you the secret of golf! "…my partner that day did everything he could to wind me up. But no matter, 4 hours later I was shaking him by the throat. Hand. Whatever."
* * * * * This book is a great read from start to finish. I was amazed how few golfers had heard of it (especially at Sunningdale). No fear I have now bought several copies and am spreading the enjoyment.
* * * * * Brilliant from start to finish. A real gem for anyone growing up with golf during the 70's and 80's. It is a hilarious read. So many nuggets of good stories and moments that remind you of your first years growing up with the game.
* * * * * This book was a delight to read – in fact I couldn't put it down!! Packed full of short stories about the authors unsuccessful golf career, this book will even teach you how to throw a club properly and will definitely keep you entertained. Buy it!
Sensational – author is not a pro, not a golf writer and relates to all golfers. Must have if you have any sort of sense of humour.
If you like your reading a bit lighter, of all the books out there, each with a wackier title than the next, I urge you to read the wackiest, My Baby Got The Yips by Richard Russell. I read it on holiday in the company of three golfing buddies all with different reading habits. Each of us read it in turn, cover to cover, and annoyed everyone else by laughing out loud.
His thoughts on the game of golf are sometimes brilliant in that humorous British sort of way. This book is unlike anything you have read on the game. If you can find this book, it will make a worthy addition to any golfer's library.
This book is laugh out loud funny. I don't often laugh out loud but I was often waking my wife up in bed because of it. I've lent it out to a few mates that all agreed it was hilarious, especially his chapter (complete with illustrations) running through the various methods for hurling one's golf club after a stinker of a shot. Again, read this, you'll wet yourself.
My favourite ever walk-in? Richard Russell, first tee, Sunningdale. Hit one drive, it was rubbish, he walked in. From Richard's superb book 'My Baby Got The Yips'. It really is an excellent book in every regard, laugh out loud moments for any golfer, plus the secret of golf.
My favourite 'fun' (as opposed to instructional) golf book is probably still My Baby Got The Yips
The chapter about club throwing (especially the sections about Tommy Bolt & Lefty Stackhouse) is one of the funniest things I have ever read.
Russell has an easy amusing writing style with a penchant for the throwaway phrase that causes any aspiring author to ask why he had not thought of that angle himself. He also has the ability to convey the feelings that millions of high handicap golfers have but cannot always express them.
Currently blasting my way through 'My Baby Got The Yips'. Very enjoyable. Love that book!
Golf books are not all boring. Here's proof. 1. The Greatest Game Ever Played (Mark Frost) 2. Nice Jumper (Tom Cox) 3. Four-Iron in the Soul (Lawrence Donegan) 4. My Baby Got The Yips (Richard Russell)
(On its 2014 reprint) My new/old favourite book… 'My Baby Got The Yips' by Richard Russell (2004). Very, very funny.